Book your reservations online below:
Click below for a money saving coupon! *Terms and conditions apply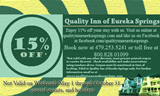 Thank you for you interest in contacting us!
You can make your reservation using the form to the left, or contact us directly at:
Quality Inn of Eureka Springs
196 E Van Buren
Eureka Springs, AR 72632

Phone: 479.253.5241
Toll Free: 800.828.0109
Fax: 479.253.6502

or email us at: stay@qualityinneurekasprings.com

If you are having Problems with the site please email webmaster@qualityinneurekasprings.com
We look forward to hearing from you!