Eureka Springs is itself a wonderful attraction, but it is also home to some other very unique attractions you won't find anywhere else, and when you stay at the Quality Inn of Eureka Springs, they are all within convenient reach, either by your own vehicle, or the Eureka Springs Trolly system that stops right in front of our hotel!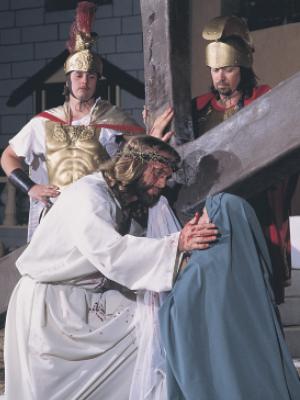 Only in Eureka Springs, Arkansas can you see America's #1 Attended Outdoor Drama - The Great Passion Play!
A spectacular experience brought to you by a cast of hundreds.
You'll be inspired as the story of the Man who changed the world forever unfolds before your eyes.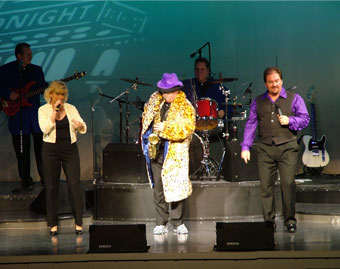 The Pine Mountain Theater country music and comedy theater in Eureka Springs, Arkansas has been entertaining families on vacation in the Ozarks since 1975. It was the first nightly family theater show of its kind in Arkansas and remains one of the Ozarks top family attractions.
Every evening as the sun goes down, lights come up on the finest group of entertainers found anywhere. Enjoy top 40 and classic country hits, nostalgic rock n roll favorites, bluegrass, gospel and patriotic music.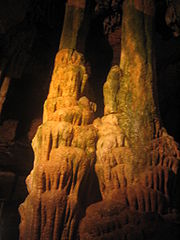 Onyx Cave is a small show cave located about six miles east of Eureka Springs, Arkansas.
It has been a tourist attraction since 1893, making it the oldest show cave in Arkansas.
Make sure to tour this facinating natural wonder.
Thorncrown Chapel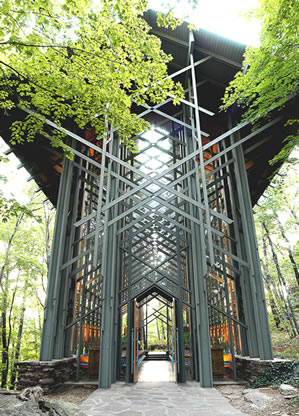 The Thorncrown Chapel is located in Eureka Springs, Arkansas, United States. It was designed by architect E. Fay Jones and constructed in 1980.
The chapel was the brainchild of Jim Reed, a retired schoolteacher who originally bought the land on which it stands to build his retirement home. But the area's natural setting was so attractive that many visitors set foot on the property. So, Reed consulted with Jones to construct a building where his guests could feel welcome.
The chapel is built mostly out of materials indigenous to northwestern Arkansas, where Eureka Springs is located. As a result, transportation of the materials was relatively easy and costs were minimized.
There are so many wonderful attractions here! We can't list them all, but just ask at our front desk and we can suggest something for those of all ages!
Here are a few more local attractions you might enjoy!
Cosmic Caverns
Cosmic Caverns offers Guided Cave Tours and Gemstone Panning! Who knows, you may strike it rich!
Covenant Gardens
Covenant Gardens offers a very unique item, a Garden of Biblical Plants, see plants that were common in the Biblical times.
Eureka Tours
Eureka Tours gives informative 2.5 hour narrated tours of Eureka Springs!
Fun Spot
Fun for the whole family, Fun Spot offers Miniature Golf, Go-carts, Bumper Boats, Batting Cages, and Video Games galore!
Local Restaurants
La Familia Tex-Mex 120 East Van Buren Eureka Springs, AR - (479) 253-2939
Ermilio's Italian Home Cooking 26 White Street, Eureka Springs, AR - (479) 253-8806
Bubba's Barbecue 166 West Van Buren Street Eureka Springs, AR - (479) 253-7706
Sparky's Roadhouse Cafe 147 East Van Buren Eureka Springs, AR - (479) 253-6001
Pied Piper Pub & Inn 82 Armstrong Eureka Springs, AR - (479) 363-9976
Catfish Cabin 3085 East Van Buren Eureka Springs, AR - (479) 253-7933
Myrtie Mae's 207 West Van Buren Eureka Springs, AR - (479) 253-9768
McDonald's 148 East Van Buren Eureka Springs, AR 72632 - (479) 253-6106
De Vito's Restaurant 5 Center Street Eureka Springs, AR - (479) 253-6807
Pizza Hut 2048 East Van Buren Eureka Springs, AR - (479) 253-8258