Book your reservations online below:
Click below for a money saving coupon! *Terms and conditions apply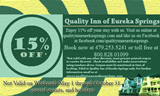 The Quality Inn of Eureka Springs, Arkansas offers Victorian charm that will transport you back to the days of yore, relax and let the hectic world outside fade away.
Conveniently located at the intersection of Highway 23 South and 62 East, near antique malls, gift shops, restaurants, shows, and more.
Our spacious, clean and comfortable quality accommodations include your choice of Queen beds, King beds, luxurious Jacuzzi suites, and a secluded cottage.
Whether you are looking for a solitary retreat, a romantic getaway, or planning an event for your group, Quality Inn of Eureka Springs has the perfect lodging choices for you. Make your reservations today!
Come stay with us and treat yourself to our wonderful famous breakfast which includes homemade quiche, breads, hot Belgian waffles and more!
Click on the tabs at the top to learn more about Quality Inn of Eureka Springs!